Here are some of the most Frequently Asked Questions, asked by you, our amazing customers.
If you have a question that's not covered off here, try our dedicated Help Centre here. This is a resource that condenses thousands of questions into an easy-to-use section of our site ?
No Pong sounds too good to be true. Does it actually work?
Yeah it does! We've tested it on the sweatiest, smelliest people and it literally eliminates armpit odour. We don't believe in snake-oil cures, we believe in science. No Pong creates a pH environment that smelly armpit bacteria can't survive.
What is your B.O. Free Guarantee?
We are so confident you'll love your No Pong, we'll give you a FULL REFUND on your FIRST ORDER if we can't eliminate your B.O. to your complete satisfaction.
If you just don't like it for whatever reason, get in touch and we can either send you one of our other products on us to try, or refund you in full as above.
Customer Love is number #1 for us, and we will not rest until you are satisfied! We go to great lengths to ensure we are super easy to deal with. Our goal is for you to succeed, and so your No Pong purchase is NO RISK, ALL WIN!
If you have any questions at all, just drop us a message on FB Messenger or customerlove@nopong.com.au
Every tin of Australian No Pong is proudly Made In Australia with LOVE! ??❤️
I'm a sweater, so I need an anti-perspirant so I don't turn up to meetings with my 'pits dripping wet
No Pong is an extremely effective deodorant, but it is important to note that it is not an anti-perspirant, and does not contain ingredients (which are often aluminium based) designed to block sweat pores.

Anti-perspirants are actually a completely different category of product, and we are conscious that we do not make those claims.

If you've been using anti-perspirants for some time you may find that you sweat more, but you have no body odour. We have also had a lot of people find that after using No Pong for a longer period of time that they actually sweat much less than before, as their pores can breathe freely and their bodies are not constantly trying to produce as much sweat.
I have very sensitive skin, which No Pong should I try?
If you have sensitive skin, we created No Pong Bicarb Free for those people who are sensitive to bicarb based deodorants (ours and others). Some people can be sensitive to bicarb based products, so if you're not sure or if you have sensitive skin, then we'd recommend that you try our No Pong Bicarb Free product.

You can check out our full list of ingredients on our website at www.nopong.com.au/ingredients-directions
In regards to effectiveness, all of our testers found it effective for 12 hours.
This has definitely been our experience as well.

We would definitely recommend, as with any product, and as it says on the tin, that you stop using the product if you have any irritation.
Urgh, I don't want to use my fingers to put deodorant on
Why not? It's just like a lotion or a cream. And after you've used No Pong for the first time, you'll find your armpits are a much cleaner place. Nice!
We also believe it's important to stay in touch with your body. We've had a couple of customers get in touch to let us know that because of the way No Pong is applied, they had early-detected some lumps in that region. One was benign, the other required treatment but was detected early. That really brought home to us the importance of knowing your body, and it's something we believe very strongly in.
For people with longer nails, a suggestion we've had from customers is to use the back of your nail as the scoop!
We've designed No Pong to have light, fresh, gender-neutral fragrances. They are all are barely noticeable when worn, and light enough that you can wear a fragrance/perfume over the top as well.

We describe our ORIGINAL fragrance as having notes of citrus, with a hint of vanilla.

Our new SPICY CHAI consists of woodsy notes, and just a hit of sugar and spice.

Our full list of ingredients, including all of the 100% pure, certified organic essential oils in our fragrances are listed out here:

www.nopong.com.au/ingredients-directions/
Do you test on animals and are you cruelty free?
We are cruelty-free and don't test on animals at all, only on smelly, consenting humans.
I bought No Pong, but I have an extra $1 charge on my credit card!
Our credit card processor, Stripe, verifies each card before charging it. They do this to check the validity of a credit card as a fraud protection measure.

Depending on your card, the verification is in the form of a $0 authorisation, but if that fails they then authorise $1 to ensure the card is valid. Full details of this security procedure are here.

Something to note – the $1 is an "authorisation" not a "charge" as such. Stripe reverses it immediately after it is placed, and it will automatically drop off your statement.
How do I manage my subscription?
Our subscriptions can be tailored for you, whatever your needs may be:
Change Your Frequency!
Multiple Tin Discounts!
Switch your scent or variation!
Here is a quick video from Melanie to show you how: https://youtu.be/Pfk18l04AYw
OR
1. Sign in to your My Account
2. Click on Subscriptions tab
3. View your subscription
4. Update to suit your needs and start your savings
If you need further help, please don't hesitate to get in touch with our Customer Love Agents ❤️
Why do you have a $1 Monthly Club Subscription sign-up fee?
The monthly club is cheaper than ordering single tins on an ad hoc basis and you can cancel at any time, however, we have noticed a few people who sign-up for the monthly club and then cancel it immediately to get the lower price, which is not in the spirit of the Monthly Club. We want this subscription to be for those who know and love No Pong already 💌

Your first Monthly Club will be the same as a single tin with shipping and the savings come after that!
I'm concerned about using my credit card online. Do you use PayPal?
We do! In addition to offering credit and Visa/MasterCard debit card payments via our site, we now offer payment via PayPal!

Our payment processor is Stripe (www.stripe.com) and they allow us to have the industry's highest level of data security (https://stripe.com/docs/security/stripe), which is actually the same standard as PayPal's – i.e. PCI DSS Level 1, the payment industry standard for data security.

We do not accept orders over the phone, as all of our data security is secured to work via our website.
It looks like I've been double charged, check out the screenshot from my banking app
We bet you bank with NAB, and it looks something like this!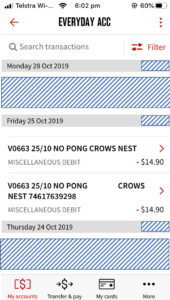 For some reason, NAB sometime seem to put an additional "authorisation" for the same amount as the original charge. An "authorisation" is not actually a charge, and it will fall off your account in a few days to a week.
This is not something at all initiated on our end, and we don't bank with NAB so you would need to get in touch with NAB and ask them why they do this. If you do, please let us know!
I ordered No Pong. When will it arrive?
We use Australia Post for shipping, but to keep costs down, we don't use registered post (postage would jump up over $8 which we don't want for our customers!)
The trade off is we can't see tracking, and once we've sent it, it's in their hands.
Australia Post estimates around 2 – 6 business days for most areas around Australia.
Almost all of the time they do hit those timelines, but sometimes it can take up to double those times, or more for regular, non-tracked mail.
As a progressive online challenger, we're committed to keeping costs as low as they can possibly be, and our current shipping pricing is about the lowest you'll find anywhere, for anything online! Shipping from $3! It's a bargain!
You can find out more about shipping on our dedicated page here
Can I send No Pong to my Parcel Locker?
Some Parcel Lockers may or may not accept No Pong orders sent with REGULAR shipping, so if you would like to ship No Pong to your parcel locker, please choose our REGISTERED or EXPRESS options 💌
What are your tins made out of and how do you open them?
Our tins are made out of a material called "tinplate" which is a combination of tin and steel, and fully recyclable.
We don't use aluminium, or plastic in our containers, and they're designed strong and light, to help keep shipping costs as low as possible… something we feel is really important as an online-focused business!

We currently have two lid designs as we're making some updates to our tins. To find out which one you have, try spinning the lid. If the lid spins, you have our new design; grip the base of the tin firmly and lift the lid with your other hand.

If the lid does not spin, pinch the sides to pop it open.
Where can I send my clean tins if I don't want to recycle or reuse them?
We currently have two amazing stockists that would love to up-cycle your CLEAN tins:
South Australia:
MOUNT PLEASANT NATURAL RESOURCE CENTRE INC (RECREATE SHOP) are up-cycling tins they receive back.
You can either post these back to:
132 Melrose Street
Mount Pleasant
SA 5235
Or if you are local, feel free to drop them into the RECREATE SHOP at:
Cnr Phillis Street & Showground Road
Mount Pleasant
SA 5235

Queensland
A GREENER PANTRY
30 Ray street
Gympie
Queensland 4570
Ideally, we would like to reduce our carbon footprint, so everyone isn't sending their clean, empty tins all over the country so we are hoping to get more of our stockists onboard to make this happen and then hopefully we can have you locally be able to return tins rather than posting them.
PLEASE REMEMBER TO CLEAN THE TINS BEFORE YOU SEND THEM AND ADD STAMPS TO THE ENVELOPE WHEN YOU POST THEM (OTHERWISE OUR AMAZING STOCKISTS GET CHARGED FOR POSTAGE WHEN THEY RECEIVE THEM) 🙏
I'm sensitive to sodium bicarbonate in skin care products
If you have a known sensitivity to sodium bicarbonate (also known as bicarb, or baking soda), we have some products for you – No Pong, Low Fragrance-Bicarb Free, No Pong Spicy Chai Bicarb Free, or our entire Vegan range which is a Low-Bicarb Blend (Flower Power, Cool Lavender and Fragrance Free). You can check them out here – nopong.com.au/products
It's just as effective as the Original bicarb based No Pong, and contains a formula of premium, all natural ingredients to keep you smelling fresh all day. Of course, we wouldn't release a product unless we were sure it did what it says on the tin!
Of course, as with any skin care product, if you do notice any sensitivities we suggest you stop using it right away.
It's got coconut oil in it. Will it stain my clothes?
Unlike regular deodorants that often leave a white, powdery stain on your clothes, No Pong is designed to stick to skin, not clothes, and should not leave any residue on your clothes at all.

Important to note that you only need a little bit, to create a very very thin, clear layer that should be rubbed in well. If you wait around 10 minutes for it to absorb before putting on tight clothing, this should really minimise any ability for it to transfer onto your shirts.
How long does No Pong last on shelf?
No Pong is extremely resistant to microbial growth and we conservatively say it will last for 12 months before opening, and 6 months after opening. Each tin is designed to last about a month for most people so this should give everyone plenty of time!
Want to share how No Pong has changed your life?
We hear the most amazing stories of how No Pong has changed people's lives, so if this is you, please contact us at customerlove@nopong.com.au and tell us a bit about yourself!
We would love to get to know you and hear how No Pong has given you a life full of confidence 🙌 and please send a pic of you and one of our tins, so we can celebrate you!
Will I win the lottery if I buy No Pong?
Good question! No Pong won't increase your chances of winning the lottery but it may increase your chances of getting lucky!