Get Australia's Favourite Natural Deodorant
flying off your shelves
No Pong has been flying off shelves around the country, with over 3.5 million units sold, amassing over 89,000 Facebook followers and thousands of 5 star reviews

We have a fast-growing list of stockists Australia-wide, our products are taking the natural deodorant world by storm. We've got everyone's pits covered, from normal to sensitive skin, as well as our latest multi award-winning Vegan option.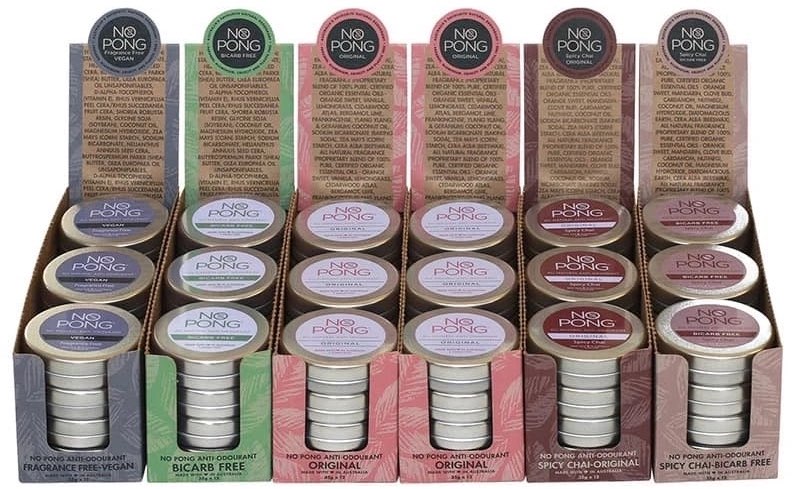 BENEFITS FOR YOU AND YOUR CUSTOMERS
AFFORDABLE & ACCESSIBLE
Many all-natural products come with a price premium, sometimes up to 50% more than No Pong's range.
Our wholesale price keeps it affordable for both you and your customer, and we won't stop there!
Online ordering that fits in with your busy schedule🤩 Your 'My Account' is open 24/7!
Low MOQ's of just 24 units mean you can top up at anytime, with ease!
LOVED BY CUSTOMERS
With over 89,000 Facebook fans and hundreds of thousands of brilliant customers, No Pong is making Australia a fresher place, one armpit at a time!

❤️ CLINICALLY PROVEN EFFECTIVE FOR OVER 12 HOURS
❤️ CRAFTED USING THE FINEST NATURAL INGREDIENTS
❤️ 100% PLASTIC FREE PACKAGING AND SHELF READY TRAYS
WHOLESALE SUPPORT
Nothing beats the convenience of your customers shopping in your store, and we'd love to help you get them in the door.
Our monthly newsletter specifically for wholesale customers has updates and offers, and we have an online Wholesale Resource centre with marketing assets you can use in-store.
Our customer love team are always here to personally support you at customerlove@nopong.com.au
PROVIDE YOUR CUSTOMERS WITH VARIETY
FIVE SKU'S AVAILABLE SUPPLIED IN 12x unit SHELF READY TRAYS
Eligibility:
We love to support small business in Australia. We're one after all! In order to stock No Pong you must have a valid Australian ABN, and a physical retail presence in a relevant industry. We have a colourful kaleidoscope of businesses around Australia stocking No Pong ❤️

While physical retail is not our speciality, we aren't accepting new stockists that are online only, or intend to sell online.
APPLICATION PROCESS:
To confirm that we're a great fit together, we have a straightforward application process:

1. Get in touch, and tell us a little bit about your business

2. Our team will get right back to you with any questions or clarifications. If it's clear right away we're a great fit together we'll send through our wholesale pricing and ordering process.

3. If that all makes sense and you would like to proceed, we have a little bit of paperwork to fill out (literally a one pager). We can then give you access to our wholesale portal

4. You can then order at any time. Our MOQ is 24 units so you can top up easily at any time!
AS FEATURED IN