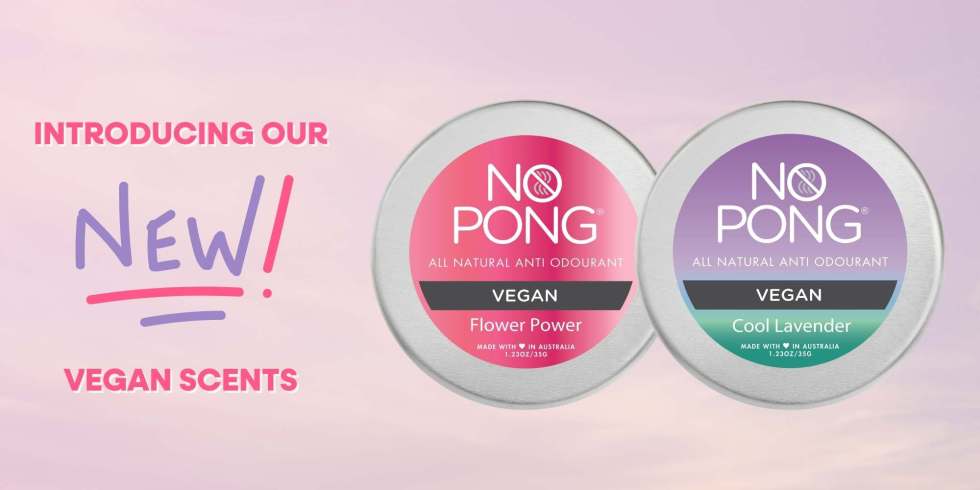 Like strolling through a field of wildflowers at the height of Spring, hair blowing in the cool, gentle breeze and the feel of the warm sun on your face. That's exactly what you get when you open the lids of these sweet little Vegan No Pong tins.
But first! These scents may be a little familiar…
If you've been a No Ponger for a while now, you'll be familiar with our Secret Scenta's. Each December for the last few years, we have released a mysterious festive-themed tin. Leaving it to you to sniff out the secret scents within.
We got such great responses and many requests to make our last two Secret Scenta's permanent scents, that we just couldn't say no! So it's because of you guys that Cool Lavender and Flower Power are now a permanent part of the No Pong fam. Woohoo!
The best part? They're both vegan!
If you didn't know, our vegan formula is low bicarb (yay for sensitive pits), contains nourishing Vitamin E and is ridiculously effective. It's actually clinically tested to be highly effective for up to 12 hours and still very effective after 24 hours. Not too shabby at all!
So let's quickly discuss the scents themselves…
Cool Lavender – we like to describe it as lavender with a refreshing difference. It's a fresh lavender scent, with a cool aroma. Smooth on the nostrils and not overwhelmingly lavender-ish.
Flower Power – like a gentle breeze sending you the smell of fresh-cut wildflowers. And like its friend Cool Lavender, this scent isn't overpowering or overwhelmingly flower-ish. It's just right. You know?
Many of you already have these scents in your hot little hands, so we ask of you this…
The next time you wear your Cool Lavender or Flower Power No Pong, just lean down and put your nose towards your armpit. Close your eyes and take a deep breath in to soak up the beautiful floral scent that you know has your back. It's working hard to keep any pong at bay. Smile, because you know you'll be fresh as a wildflower (literally) all day long. Bonus points if you're in public.
Too far? Sorry!
Anyways, we hope you love our two new vegan scents. And what better time to give them a whirl than a beautiful Australian Spring/Summer? Shop Cool Lavender Vegan and Flower Power Vegan today!
↩️ Back to Knowledge Base